My Swim Buddy's Story
In 2011, My Swim Buddy set out with a goal to teach as many children as possible. The company's mission was to use learning to swim as a way to build confidence and inspire youth to find satisfaction in doing the best they can. While that remains at the core of the company's philosophy, the primary objective is to create safer, stronger swimmers.
Company leaders were initially driven by a passion for teaching swimming, while the national statistics concerning swimming and water safety became another urgent driving force to build quality programs:
54% of Americans can't swim or don't have basic swimming skills
— American Red Cross survey
Drowning remains the leading cause of death for U.S. children ages 1-4, and the second leading cause for children under 14
— Centers for Disease Control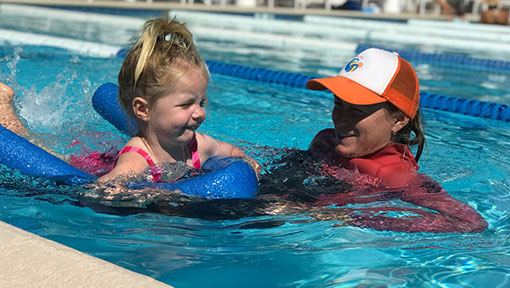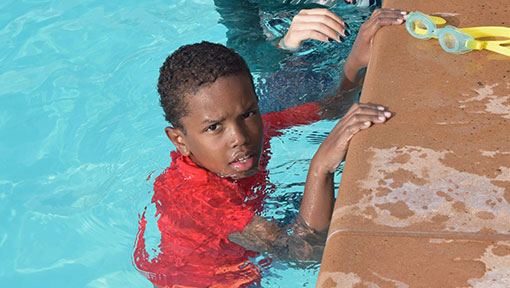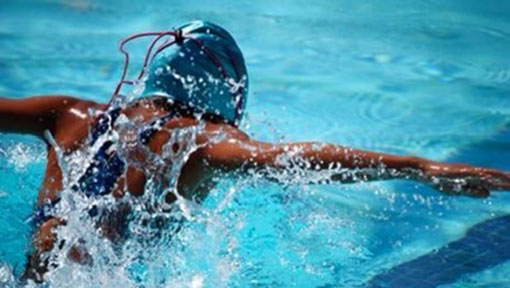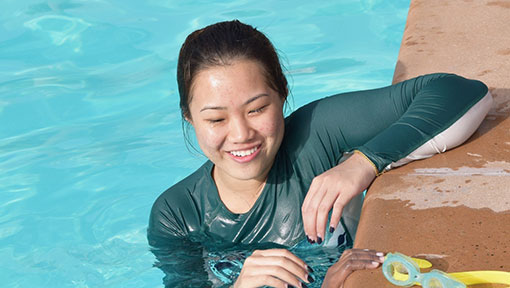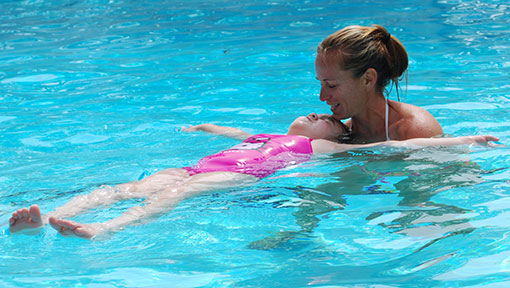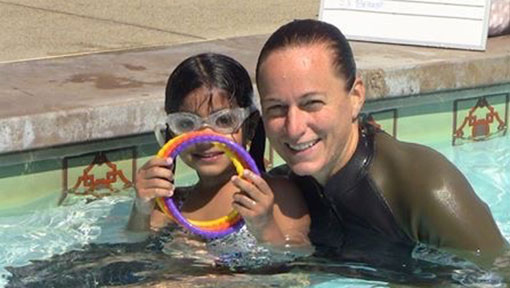 Our Programs
My Swim Buddy offers private swim lessons to all ages and abilities, including infants, toddlers, children, and adults.
The teachers build safer, stronger, more confident swimmers.
8 Levels of Achievement are recognized with our Colored Caps.
Character development is recognized by our Success Bracelets.
Lessons are available year-round, five days a week from 8 am to 7 pm.
We are a team of professional swim teachers that offer private swim lessons for infants through adults. Each teacher is certified in the My Swim Buddy Methodology, ensuring expert teaching techniques and professionalism.
Our teachers are vetted through a seven-step process and earn one and a half to two times more per hour than the industry standard — all while enjoying a work schedule that's flexible and convenient. My Swim Buddy's team includes infant, adult, and adaptive aquatics specialists.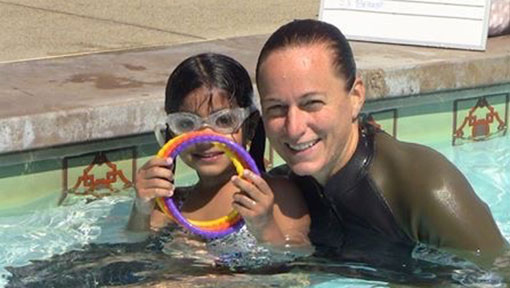 Tiffany Hoggard
Founder and Head Aquatics Leader
Biography
Tiffany combined a psychology and social behavior degree from the University of California, Irvine with experience as a California-credentialed school teacher, coach, and business owner to develop and grow My Swim Buddy. More than 20 years of business and sales experience honed her business sense and leadership skills, but her childhood athletics provided the foundation and passion for teaching swimming.
At age 12, she competed in the Junior Olympics for swimming. Tiffany still holds the 800-meter record in track and field at Laguna Hills High School, which earned her a college scholarship. She developed a passion for teaching swimming when she was 16 and her swim coach offered her a summer job.
Tiffany was inspired to start My Swim Buddy by a single question, "What would you do for free?" She knew the answer instantly, "teach swimming."
"I have nothing but continued growth and satisfaction since I decided to follow my heart," Tiffany Hoggard.
Today, she leads a team of My Swim Buddy teachers, relentlessly finding, training, and supporting the most qualified and passionate swim teachers who also strive to make a positive impact on our youth. She hopes that she and the My Swim Buddy team can help support you and your family not just to learn to swim but to also gain confidence, drive, and passion for life. The My Swim Buddy teaching methodologies are sprinkled with the influences of her favorite coach, John Wooden, and driven by his principle of success: "Success is peace of mind which is a direct result of self-satisfaction in knowing you did your best to become the best you are capable of becoming."
When she is not in the water or helping her My Swim Buddy families and team, you can find Tiffany playing sand volleyball.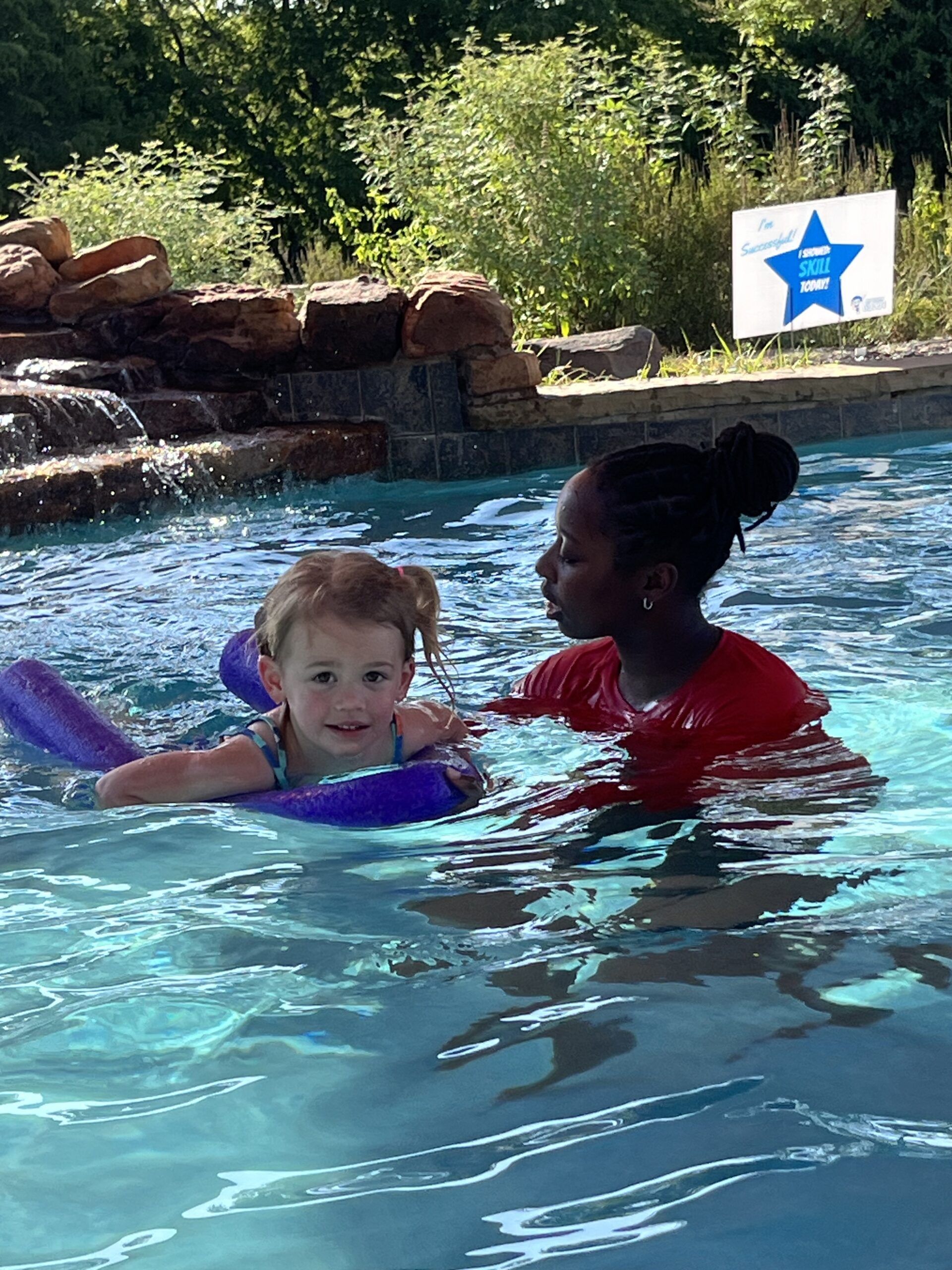 Biography
With her passion for helping others and 8 years of competitive swimming, Jordyn quickly won the hearts of so many of our swimmers. She was born in Michigan and has been living in Texas for the past 11 years. Most of her work experience has been with children. Before working with My Swim Buddy she was a preschool teacher and a youth camp counselor. Currently she studies criminology at UT Dallas and plans to go to law school to be a defense attorney. Outside of work and school, she likes to spend her free time watching TV, working out, or going out with friends. Along with her passion for working with children and the court system, she is also a personal trainer. Overall, she really enjoys helping others!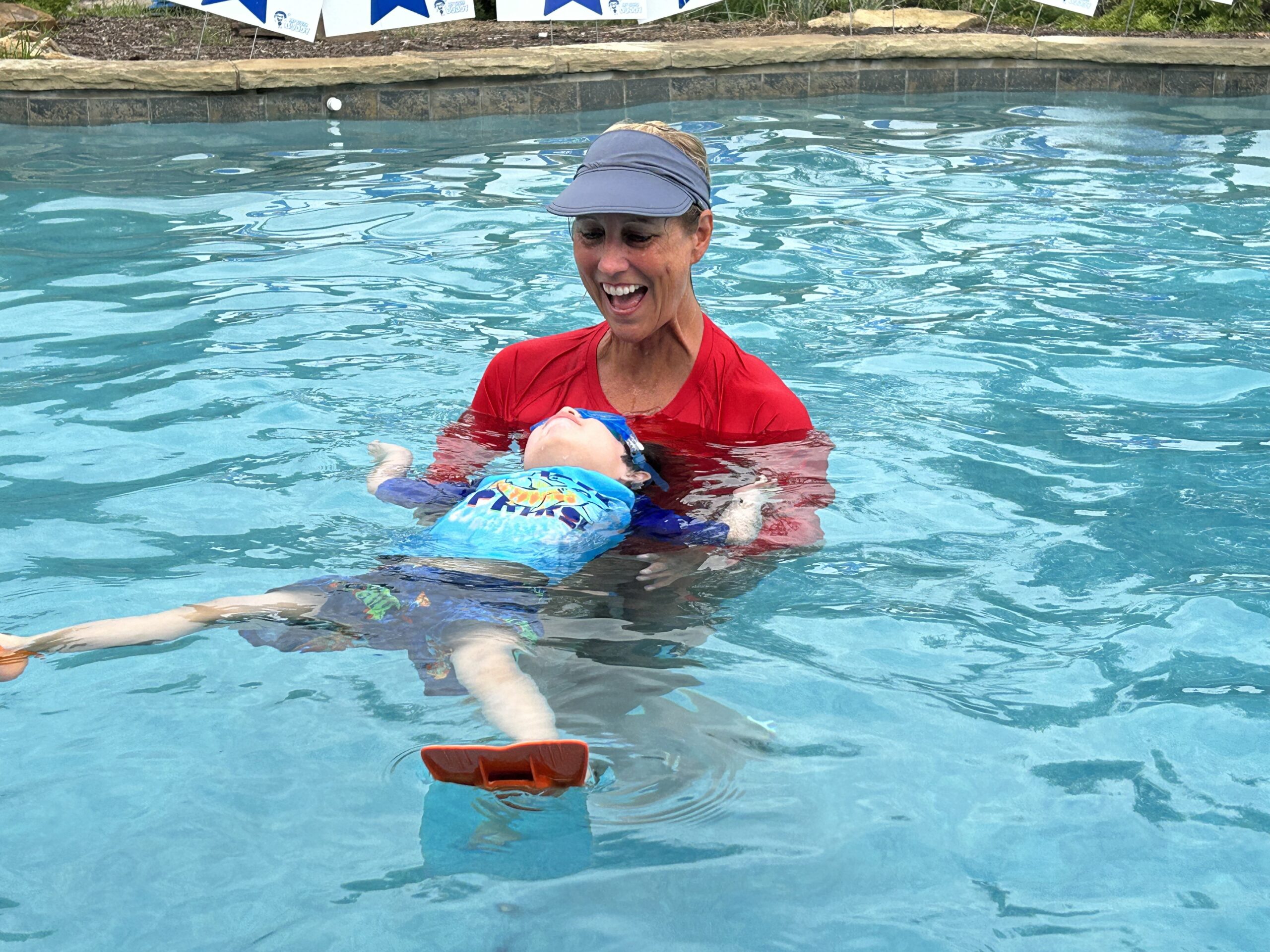 Biography
Julie discovered her passion for swimming and teaching when she moved to Texas from Chicago as a teenager. The first place she found "home" in Texas was when she joined the local YMCA swim team. This led to a summer job teaching swim lessons and coaching the swim team. Julie eventually managed the local YMCA swim program in her summers when she was home from college and early on in her teaching career. She took some time off from teaching swim lessons in order to raise her three fabulous children, one of which is on the Autism Spectrum.
Julie brings her experience and passion to teaching swim lessons as a former swimmer, swim instructor, lifeguard trainer, swim coach, and general special education teacher. As a diagnostician working with 2–5-year-old students, Julie has demonstrated her knowledge of young children's overall development as well. She has extensive experience working with children of all ages in and out of the swimming pool.
Julie holds a bachelor's degree in elementary education with a special education certification, as well as a Masters degree in Special Education. During her career as an educator, Julie has worked in both general education and special education, including working as a Behavior Specialist for several campuses. After receiving an educational diagnostician's certificate, Julie served as an Autism evaluation team member for multiple area school districts.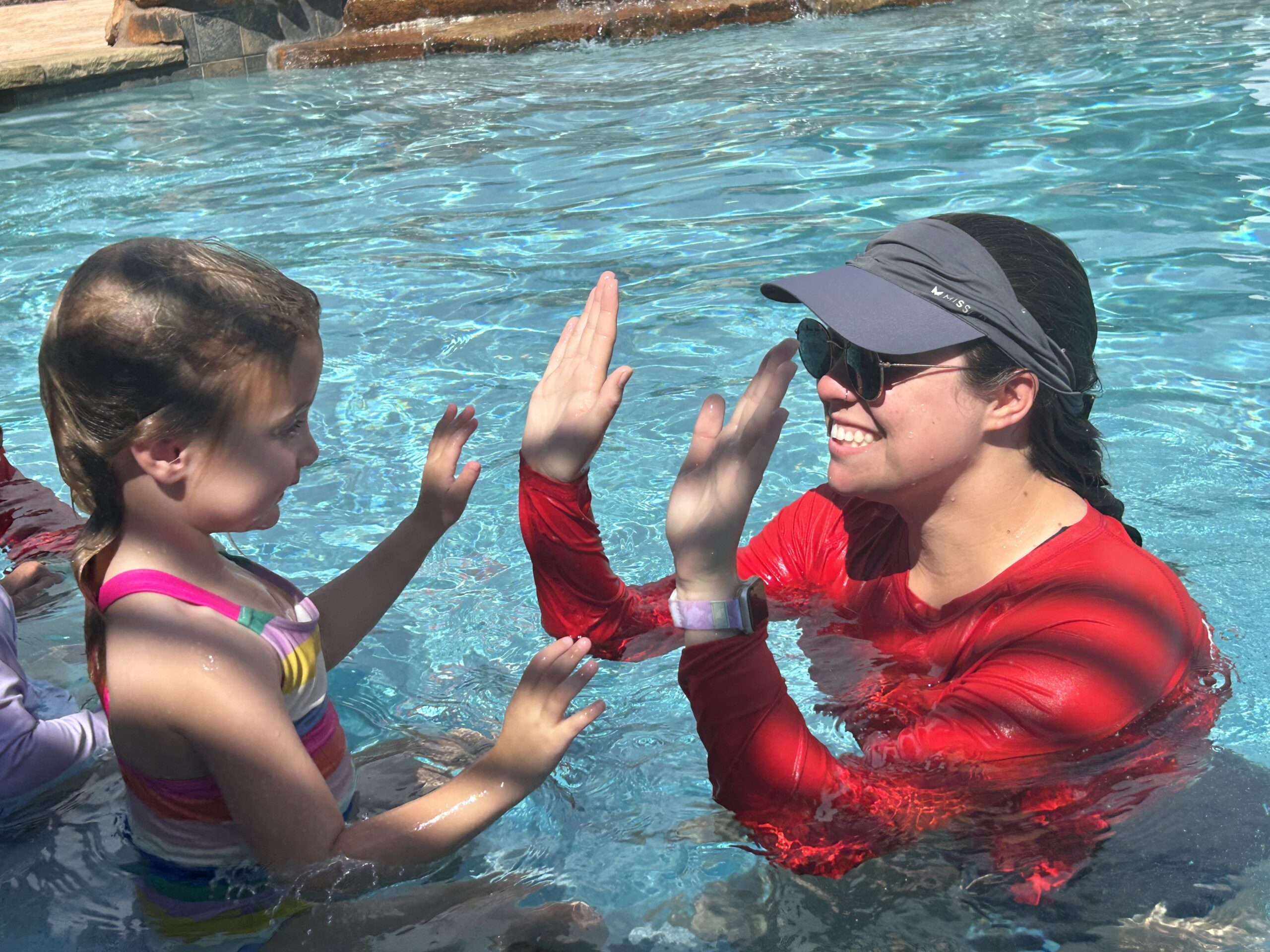 Meg Anderson
Teacher
Availability (Seasonal)
Biography
Meg was raised in a pool and was swimming before she could walk. She found a lot of joy in the water, not only in the summer but as a year-round competitive swimmer. Her first jobs were working with children through camps and after-school programs. During college, Meg learned that some of the most fun she could have was encouraging kids to enjoy being active. Although she got a psychology degree, her true passion is teaching. During the school year, Meg is working as a teaching assistant in a pre-k special education classroom and pursuing a teaching degree.
Meg brings her passion and experience to teaching swim lessons as a former competitive swimmer, camp director, and special educator. Through her background in psychology and experience in early childhood education, Meg has extensive knowledge of the overall physical and emotional development of children. She has experience working with children of all ages and abilities, both in and out of the pool.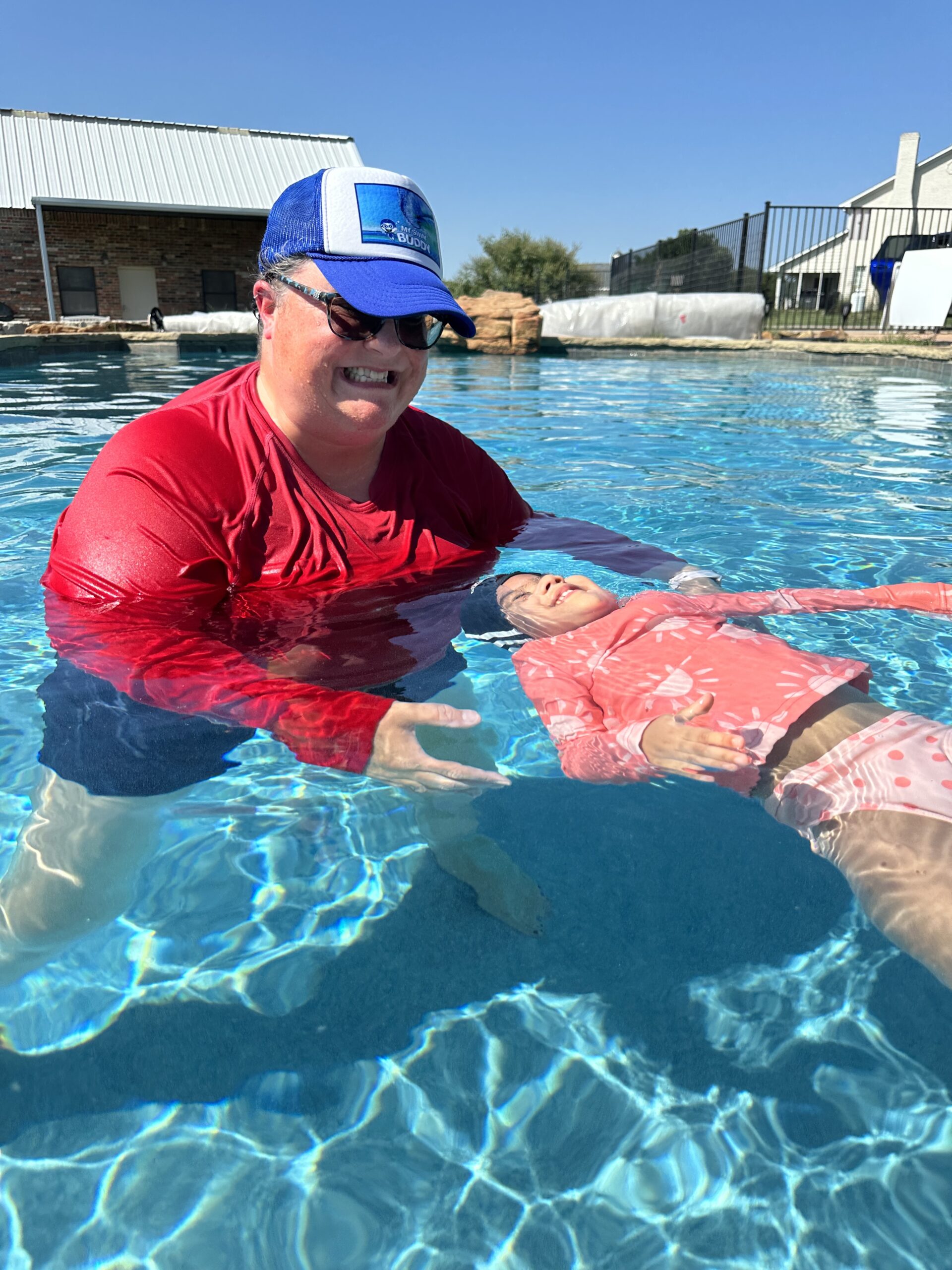 Cassie Martin
Teacher
Availability (Seasonal)
Biography
Cassie is a lifelong educator with over 30 years of experience in teaching children and adults with disabilities both in the community and classroom settings. She has found great joy in volunteering in youth ministry and teaching Sunday School and Vacation Bible School (VBS) at her church. Cassie also has international experience, having served two years on staff with Young Life as the area director in Duesseldorf, Germany.
Cassie, along with her husband of 20 years, takes pride in being the parents of two daughters who are currently in college, as well as a son who is a homeschooled high school junior. In addition to her passion for teaching swim lessons, Cassie works locally as an Educational Diagnostician, providing valuable support to public schools with special education evaluations. Her extensive experience in education and her dedication to helping individuals with disabilities make her a compassionate and skilled swim teacher, committed to creating a positive and inclusive learning environment for all her students.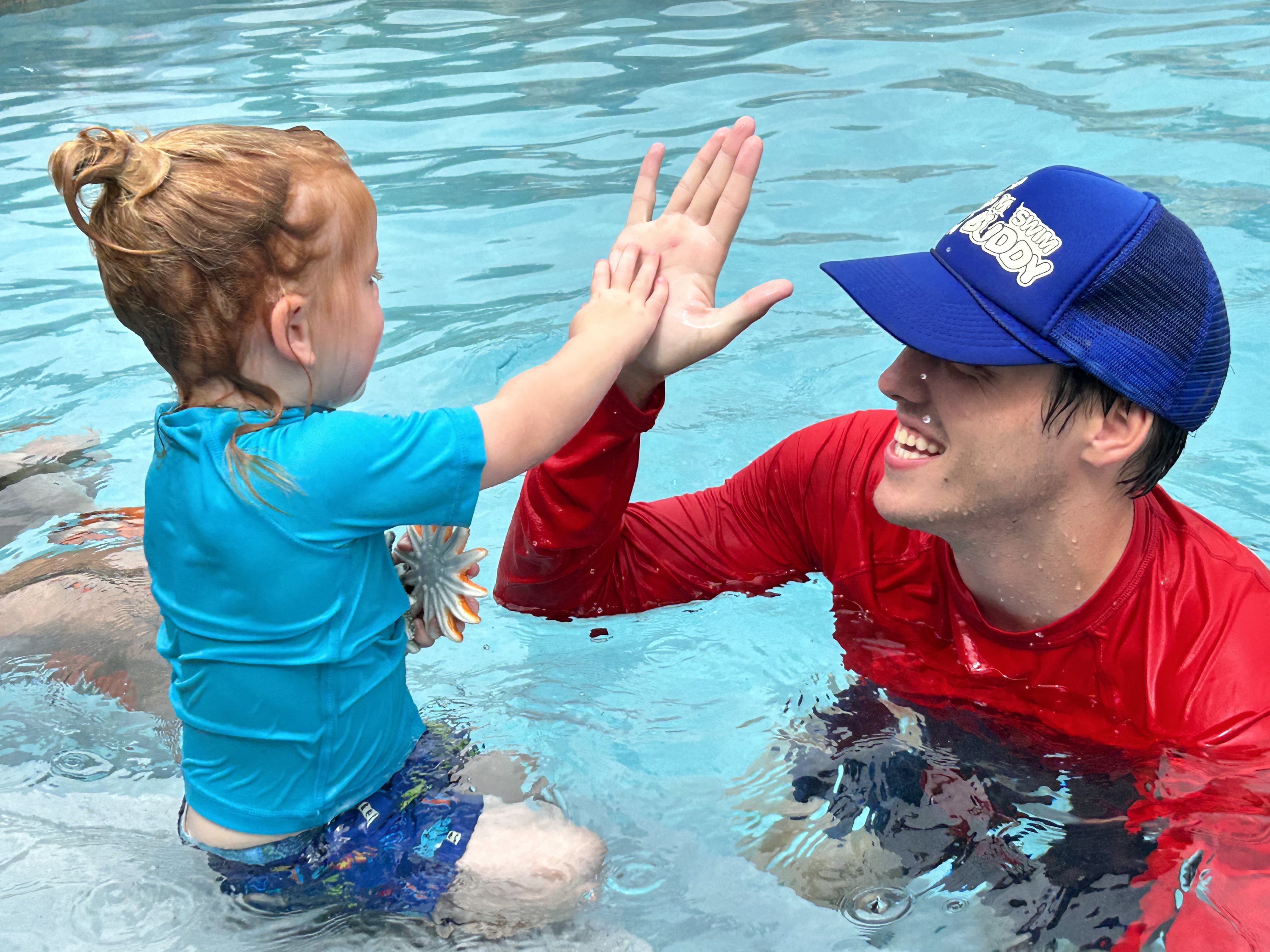 Biography
Scotty is a marketing major at Arkansas University. Prior to joining this organization, he worked as a camp counselor, where he witnessed the incredible transformations children underwent as they conquered their fears. It was a rewarding experience that fueled his desire to work here.
Swimming has always held a special place in his heart since he was a child. Swimming and water safety was deeply taught to him, and he has a strong desire to share this information with others. As a result, he was pulled to My Swim Buddy's mission and passion. It's not just about giving swimming lessons; it's about teaching a life skill that can save people's lives.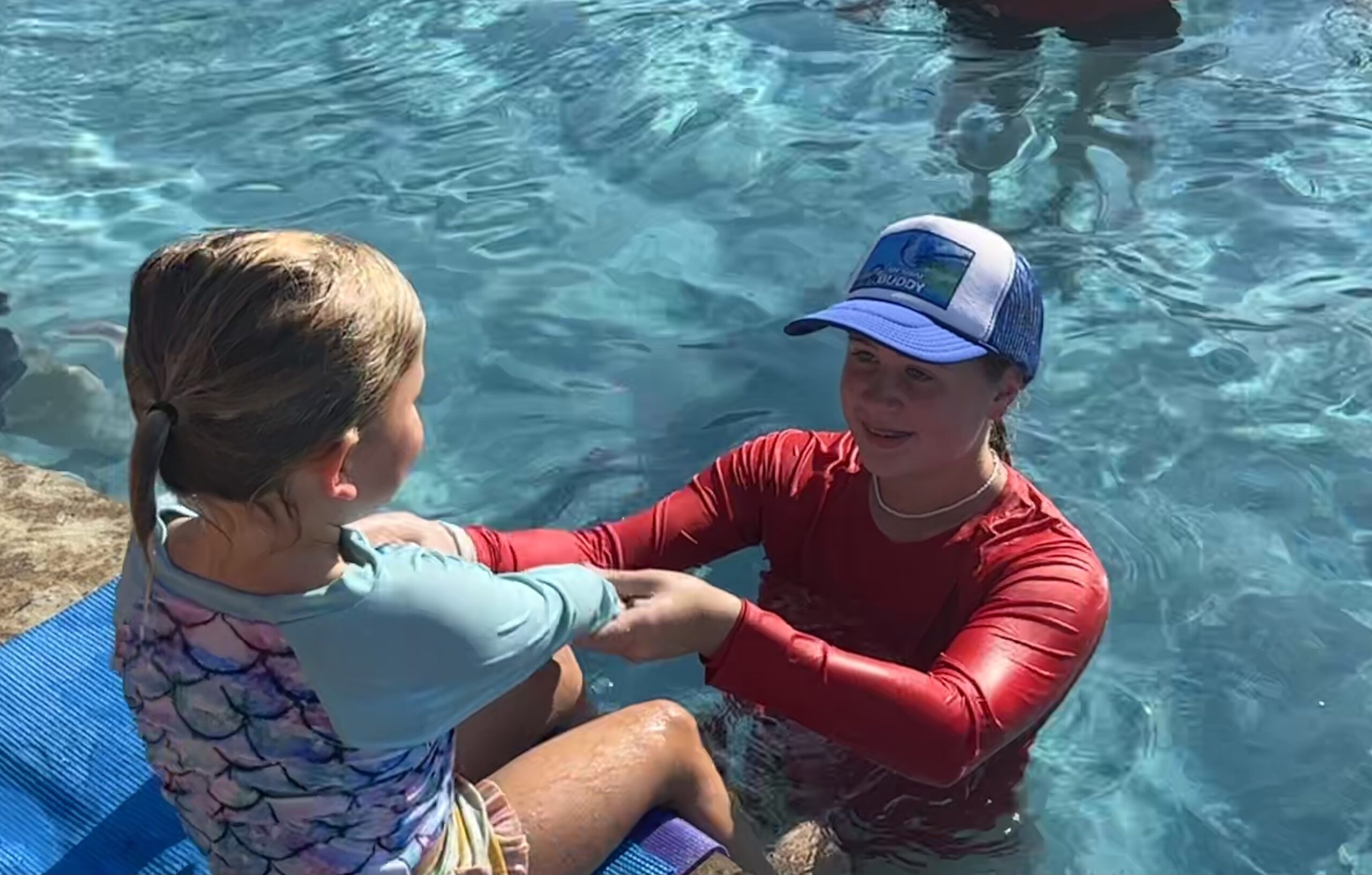 Biography
Caroline, a Prosper native joined us with a background as a camp counselor where she worked with children of all ages. Throughout her years working in children's camps, she excelled at finding a unique approach to connecting with each child.
Caroline has almost a decade of swimming experience, including 3 years in water polo. Her love of the water has inspired her to teach water safety to children as they develop a desire and passion for swimming.  She wants to use her passion to inspire and reach as many people as she can. Using her position with My Swim Buddy she plans to teach each child she works with the important skills for them to be safe in the water. Many have already fallen in love with her fun and engaging approach at connecting with her swimmers.
Biography
Maria Fuentes is originally from California and has been living in Texas for 3 years. She has volunteered in many different summer camps over the years involving children of all ages. She has also been a nanny in high school for military families. Currently she is a full time nanny for an amazing family of 4. 
Being from California, Maria had been swimming since she was a child and had always loved being in the water. Her passion grew in swimming during summer camps as a kid. She also has a big passion for surfing which improved her water safety and swim skills throughout the years. The fulfillment children bring her has given her the dedication to share the importance of learning to swim and water safely. Working for MSB is so rewarding for her to see each individual child grow and the smiles on their faces.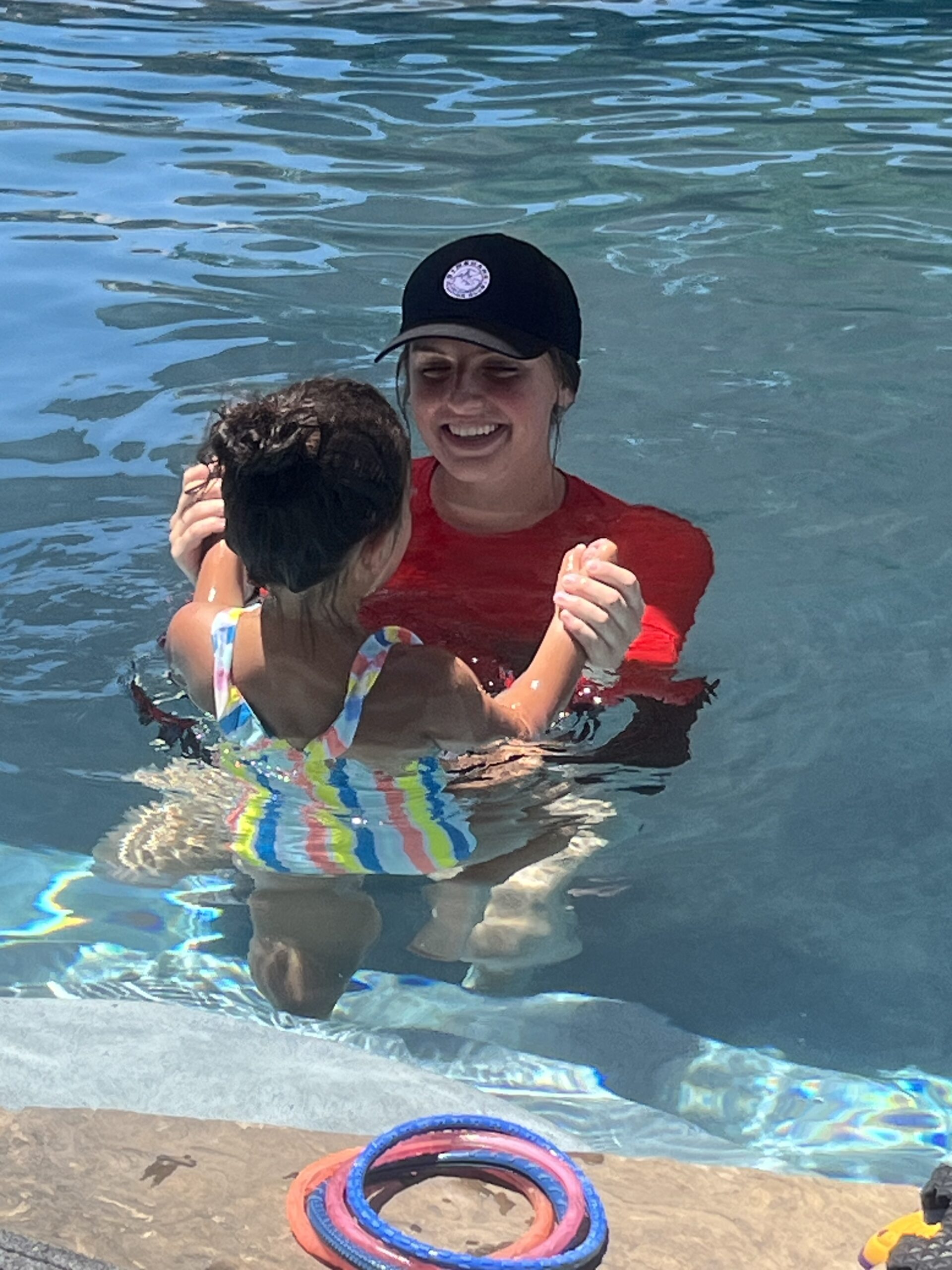 Biography
Avaleann, originally from Kansas has lived in Texas for 10 years now. Growing up in Kansas she lived on Pomona lake and learned a lot about water safety from her dad who was a local park ranger at the time!
Most of Ava's life has been around working with kiddos. In 7th grade, she started her first babysitting job and has had one ever since! She also volunteered with the special needs ministry at her local church and attended many family camps, like Joni and Friends with the ministry. Last summer she worked as a summer wrangler for Sky Ranch and learned much about teaching children new skills.
After the summer she found her passion for the medical field and became a licensed CNA. Furthering the medical career passion, Ava is pursuing a degree in nursing at Collin College. Overall she is very excited to foster a love and understanding of swimming with the kids she has the opportunity to work with!
Frequently Asked Questions
How does My Swim Buddy work?
My Swim Buddy is a team of professional swim teachers that conduct private one-on-one swim lessons. All lessons are held at our heated residential pool in Prosper, TX.
All of our teachers are certified in first aid and CPR,  background checked, insured, and receive 60+ hours of teacher training.
You and your swimmers will arrive at our pool 5 minutes before the start of your lesson time. Your teacher will have some questions to gain a better understanding of your swimming goals and how to best support your swimmer.
My Swim Buddy has all equipment needed to ensure an effective and successful lesson. All you have to do is show up at the time of your lesson willing to learn.
Our teachers will work at a pace appropriate for you/your swimmer to learn, feel safe yet challenged, and learn as much as you/they are interested in learning.
See more about the My Swim Buddy Methodology, Levels of Achievement (8 Cap Levels), and Character Building Bracelets (John Wooden's Pyramid of Success) here.
What types of services are offered by My Swim Buddy?
x  All of our lessons are private, 1-1 swim lessons. We have an adaptive aquatics approach. Our Master Teachers have completed advanced adaptive aquatics training that empowers them with the required tools to more effectively teach swimmers with Anxiety, Autism, Trauma, Discomfort, Physical Difficulties, Sensory Issues, Motor Problems and Delays.
All of our teachers are trained in the My Swim Buddy Learn to Swim methodolgy for ages 2 to 15. Each teacher comes with different backgrounds, certifications, specialities (infants, adults, special needs/adaptive aquatics). Please see teacher bios above for areas of speciality you are interested in and sign up with that teacher to ensure the best results. If you would like help finding the best class for your swim goals to be reached please complete the student intake form here and we will assist you with getting started.
Services are offered in multiple ways:
• 2-Week Intensive: Lessons are held Mon. – Thurs. at the same time for 2 consecutive weeks. This program is currently a seasonal offering.
• Perpetual Membership: Lessons are offered with options of 1, 2, or 3 times per week. Just grab a lesson for each time and day of the week that you want with the appropriate teacher for your needs/goals.
• Or you can do what many of our swimmers choose and combine both of the above options. Start with the 2-week intensive and then maintain your new swim skills throughout the year or season with weekly (1x, 2x, or 3x) lessons.
Can I rebook with the same swim teacher?
If you have a specific teacher you love working with, you can use the filter for instructor option on the customer portal during your next booking.
Can I book a swim lesson directly with a swim teacher instead of through My Swim Buddy?
We have set up an easy-to-access Customer Portal through iClassPro where you can schedule your preferred, days, times, and teachers for your swimmer at your convenience. All of our teachers are direct employees of My Swim Buddy and their full availability can be accessed through this portal.
We have a zero-tolerance policy for poaching.  
What should I wear to swim lessons?
We recommend showing up in your swimsuit ready to go. You can always wear something over your suit. If the weather is a little chilly, we recommend wearing a rashguard or thin wetsuit. We have a few options available for purchase onsite or online through our MSB ProShop
Infants & Toddlers
**Please note that all swimmers who are not potty trained will need to be double-diapered. This means they must wear a disposable swim diaper layered with a reusable swim diaper. If you do not have either of these, we have them available in our online ProShop for you to purchase and pick up poolside.
"Having an accident" is something we know everyone wants to avoid. However, accidents do happen, and the steps needed to take to address the accident are costly to us and you, our customers. Here is what is recommended we need to do or are required to do by Federal, State, or local law.
CDC RECOMMENDATIONS
Texas Department of State Health Services
Do I need to bring anything to my swim lesson?
We recommend bringing a towel, a change of dry warm clothing, drinking water, and a snack for after the lesson. Goggles are allowed and will be introduced when appropriate, but we request that they initially not be worn. 
What special equipment do you recommend?
We have our most recommended products such as goggles, swim fins, and wetsuits available to purchase at our pool if you need them. Please order through our online ProShop in advance to ensure we have your preferred size and color in stock. Check out this video to see why we stock and recommend the products we do.
What about parking?
Please take notice of parking signs and instructions on site. Parking is limited and at someone's home. If we work together to follow a few simple steps there will be room for everyone to come and go easily.
For cars with one swimmer, please use the circle drive to park in front of the house.
If you arrive early to your lesson and are one of the last cars in the circle drive, please park and bring your swimmer to their lesson. When the swimmers attending lessons before you have left and your swimmer is with their teacher, we ask that you please move your car to the top of the circle drive so those that arrive after you have a place to park.
The two parking spots directly in front of the pool gate are reserved for cars with two or more swimmers and adult swimmers. This will keep the circle drive from becoming backed up with cars waiting longer than one lesson. Please do not park in these spots unless you have two or more swimmers or have adult lessons.
We also ask that you not park in front of the workshop to the far right, as that is the staff/resident parking.
Thank you for helping us make it possible for everyone to get and leave their lessons on time.
What is My Swim Buddy's cancellation policy?
Cancellation/Withdrawal Policy
Please see our Terms and Policy section here.
Inclement Weather Policy
Rain and cold weather do not cancel a lesson! My Swim Buddy has a dome enclosure around the pool in the cooler months.  This and the heated (90 – 92) degree pool allow us to conduct lessons in the rain and in cold weather, so please plan to swim in the rain and cold weather. If this is a concern, please avoid booking in the colder season because for us to reserve our teachers for your lessons, we can not stray from this policy and must commit to the schedule you sign up for, rain or shine.
Lighting and/or thunder do cancel a lesson. If there is availability you will be allowed to reschedule your lesson for a later date, otherwise, you will be credited for the weather cancelation. My Swim Buddy must initiate the cancellation for you to be allowed to reschedule/receive credit for the weather cancelation. Do not assume a lesson is canceled due to the elements. My Swim Buddy will contact you and confirm the cancellation as soon as possible.
Late Policy
Your reserved time slot(s) will be the time period you have booked online. For example, if you reserve 4:00 pm to 4:30 pm and you arrive at 4:05 pm, your lesson will still end promptly at 4:30 pm. The time period before and after your lesson is allotted for other swimmers.
Hours of Operations*
Monday–Thursday: 9 am – 7 pm
Saturday: 9 am – 12 pm (Summer)
*Hours are subject to change.